Paris Hilton New Single 'good Time' Featuing Lil Wayne Releasing Oct 2013 From Cash Money Records (video)
Paris Hilton spends time with boyfriend River after shooting new video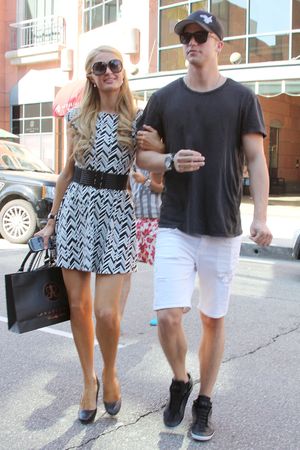 Aww! Wearing a chic black and white dress with a black waist belt and black heels, Paris clung onto River's arm and smiled sweetly for the cameras. Rex Features Rex Features The couple also couldn't keep their hands off each other as they made a pit-stop at a local restaurant and were pictured embracing at the till while they waited to be served. Paris, 32, has been hard at work filming a music video this week to accompany her upcoming single 'Good Time', which will feature rapper Lil Wayne. The blonde beauty inked a deal with Cash Money Records earlier this year and has wasted no time in getting stuck into her singing career after a seven year hiatus from music. And it's no surprise that she appears to be bringing her signature style and over the top glamour to her visuals. Instagram / parishilton Instagram / parishilton Paris kept her fans updated with sneak peeks from the set of 'Good Time' on Wednesday (4 September) and was seen wearing a couple of skimpy outfits with perfectly coiffed hair. In one of the shots, Paris is stood in front of a table covered in dozens of blinged out necklaces and sporting a revealing one piece.She wrote: "Behind the Scenes of #GoodTime! #AccessoryTime" Another picture sees the entrepreneur-turned-singer wearing a white caged bikini with gold detailing and matching white heels. Instagram / parishilton Paris shows off her video shoot make up Instagram / parishilton Shopping for Fashion Week! Paris is currently gearing up for New York Fashion Week and couldn't resist shopping for some new shoes while out with River yesterday. And there is no rest of the wicked, as she is then jetting off to Milan. She tweeted about her packed schedule earlier today, writing: "Now time to pack for the rest of my trip.
Paris Hilton whips up a storm in holy Mecca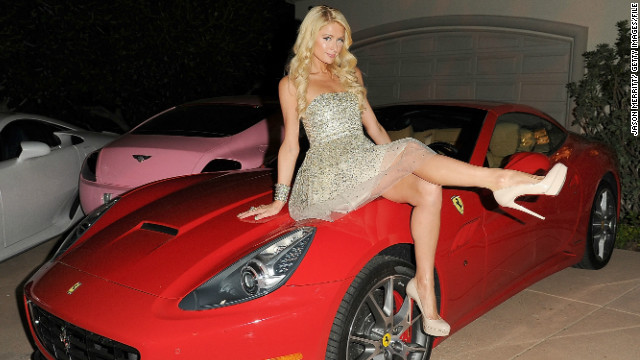 #YMCMB' Paris Hilton inked a new record deal with Cash Money, Lil Wayne's record label, back in May. Paris told MTV, "Music has always been a big passion of mine, but I've just been so busy with everything else. But I've recorded some incredible songs, EDM-influenced, electro-pop, and working with very talented producers," Hilton said. "The first single is called 'Good Time,' I recorded that with Lil Wayne. I'm so excited to be signed with Cash Money … Working with Birdman and Slim, they're amazing guys, and I'm really happy to be a part of the Cash Money family." "She got a record we're about to come out with and she's very talented. You know she's already somethin' special as an entrepreneur and everything that she do," Birdman told MTV News . "But on the music side, I'm super excited. We all – me, Wayne, everybody – we listened to her music and she got some hits." The video for her new song "Good Times" was shot in July and a sneak peak of the new track was out in August. No word on if the music video will release before the song officially drops on October 1st. Are you guys excited to hear the new song from Paris Hilton or do you think she should stay away from a recording booth? 2013 BREATHEcast Christian music . All rights reserved. Please do not reproduce without permission. JOIN THE CONVERSATION BC NEWS
It even has a branch of the lingerie chain La Senza. Paris Hilton has 42 stores worldwide selling handbags, accessories, shoes, fragrances, watches and T-shirts, and already has four in Saudi Arabia. Loving my beautiful new store that just opened at Mecca Mall in Saudi Arabia! Paris Hilton However, the combination of Hilton's personal image with the holiest city in the Muslim world has riled some in the conservative kingdom. Sheikh Adnan Baharith, a conservative cleric who preaches in Mecca, said: "It is unnecessary to have her shop here because we do not need it. "If it was in our hands we would have closed all of her shops in Saudi." For others, the outrage was more about the ongoing commercialization of the heritage of Mecca than Hilton herself. Ahmed Al Omran, who writes the blogs Saudi Jeans and Riyadh Bureau , said: "Some people were angry about it and others saw the humor in it. "In the end, it's made a lot of people think about the bigger issue of the commercialization of Mecca where historic sites have been demolished to make way for modern malls and international brands. "There's no particular reason to be outraged about Paris Hilton when we already have Gucci and Christian Dior. But for many it's further evidence of how the character of Mecca is being lost." He added: "It's the combination of the location of the store, who Paris Hilton is and what she stands for." Others on Twitter expressed similar concerns. A Saudi nursing student Aqila Bint Suleyman wrote: " Paris Hilton's new store in (Mecca). Islamic Heritage being torn apart whilst Saudi makes way for atrocities like this! " While some, like Dubai-based Saudi entrepreneur and founder of Switch restaurant Deem AlBassam, are more pragmatic. He said: "Saudi is a fair-trade market, where many investors from around the world come to invest and trade.
The perfect combo! Paris Hilton goes shoe shopping before spending time with boyfriend River Viiperi
But even for party girl Paris Hilton, the wild nights in Spain can't compare to a casual afternoon with her boyfriend. The 32-year-old American socialite could barely keep her paws off her 22-year-old boyfriend River Viiperi as they enjoyed an afternoon in Beverly Hills, California. Her favourite: Paris Hilton cosied up to her boyfriend River Viiperi for an afternoon in Beverly Hills, California on Thursday Starting the day with some retail therapy, The Simple Life star indulged at Sunset Plaza in West Hollywood. 'New York Fashion Week shoe shopping at Neimans. Got so many beautiful pairs. Loves it (sic)(sic)(sic),' she tweeted. Along with the post was a picture of the blonde Hilton heiress modelling a new black pump in honor of Mercedes-Benz Fashion Week, one of fashion's biggest events of the year, as loads of designer duds surround her. But, of course… Paris donned a zig-zag printed mini dress that revealed her long legs Celebrities do it too! Paris was seen snapping a picture as she window shopped at Sunset Plaza before meeting her beau Following her shoe fitting, the model stopped to snap an item that grabbed her attention through one of the store's windows, proving that even elite celebrities like to window shop once in a while. But her day wasn't complete until she met up with her boyfriend – who she's been dating for over a year – in Beverly Hills. Fitting in a quick pampering session, the couple visited Anastasia Salon before working up an appetite. Keeping it casual: The couple grabbed some lunch to-go from a deli Fuelling for the rest of the day, Paris and River picked up some lunch to-go from a nearby deli, the young Spanish model carrying their doggy bag, as Paris gladly latched onto his arm. Showing her toned stems, as she does best, the entrepreneur sported a black-and-white, A-line, zig-zag printed dress that she teamed with a wide black waist and black pumps. Her hair was slightly curled and pulled back into a half ponytail as she concealed her eyes with her favourite pair of oversized sunglasses. On Wednesday, Paris revealed that her YMBMB Good Music music video will release October first.